Salesforce Einstein Analytics
We can help you discover deep insights, find new recommendations, predict the results, and act promptly with AI-powered Einstein analytics platform.
Identify hidden opportunities for your business growth with our Salesforce Einstein Analytics services
Salesforce Einstein is a cloud-based analytics tool of Salesforce platform that stores data on its platform, despite being in Salesforce platform.Einstein is tightly integrated with Salesforce's core platform. Although the Salesforce platform provides excellent reporting capabilities, but when combined with Einstein analytics, it becomes a data visualisation and manipulation dynamo. Enterprises can use it to rapidly and effectively explore complex and large databases.
At NSIQ INFOTECH, we assist you in gaining access to analytics by developing an Analytics Studio app that allows you to view Einstein Analytics visualizations on a dashboard with standalone capabilities. By setting permissions, transferring data and integrating with other Salesforce clouds, we can equip you. Additionally, you can modify your preferences of activating or inactivating data sync between Einstein Analytics and the Salesforce platform. Our experts have a thorough understanding of the Salesforce platform and can aid you in preparing your organization to reach new heights timely and efficient manner.
No code AI
Intelligent experiences
Discovery and Analytics Studio
Data management
Obtain suggestions, forecasts, and more using this transparent, no-code AI. It also aids with model transparency, prescriptive and predictive analytics, the development of natural language and narrative explanations, real-time suggestions, and one-click automated discovery and storytelling.
Collaborate, interact, and act on the findings with intelligent analytics. It is a process automation framework designed to be built into business apps and coupled with a variety of workflows automation.
Discovery and Analytics Studiocreates AI-powered apps from scratch or pre-built templates. It contains pre-built templates, an explorer, and other tools.
All types of data can be integrated and cleaned with the help of data management tools. It accepts data from any source, assists with visual data preparation, and has self-contained ETL capabilities.
Einstein Analytics Offerings
Einstein Opportunity Insights
We provide effective follow-ups and significant predictions to managers and sales agents to satisfy the team's selling process. With Einstein Opportunity Insights implementation strategy in the sales cloud, we reduce the need for you to hire a data science expert.
Einstein Account Insights
Einstein Account Insights have evolved for those who are tired of reading and reviewing articles to extract benefits for the firm. With our Einstein Account Insights solution, you'll be able to see new articles regularly, keep track of the primary events and changes, and use it to help your business grow.
Einstein Lead Scoring
Einstein Lead Scoring meets the demands of your sales team and improves prospect conversions. It helps Sales Cloud Einstein with its machine learning (ML) capabilities to generate qualified leads and convert them with an intelligent lead score. We analyze predictive models to ensure it is ready to meet your company's needs. You won't need a statistician after you've captured.
Einstein Custom Analytics
Using Sales Cloud Einstein, our team of certified Salesforce experts aids our clients in managing their advanced analytics and exploring their data. With the Einstein Analytics SDK, you can now receive analytics, themes, custom apps, templates, and Apex.
Einstein Prediction Builder
Einstein Prediction Builder, a machine learning tool, allows you to make predictions on Salesforce fields using apps. Whether it's pricing forecasting or anticipating customer discontent rates, at NSIQ INFOTECH, we can support and integrate our clients through the entire process.
Einstein Bots
We develop and maintain Einstein Bots for you to help your service agents work more efficiently. Bots can handle routine queries, freeing up your agents to handle more challenging situations. Additionally, Salesforce Einstein bots can collect pre-chat facts to save time for your agents. We ensure that we accurately capture your customer's dialogue by reflecting your company's identity through tactical deployment.
Einstein Email insights
We help your sales professionals move deals on the right path with the help of recommended connections and Einstein Email Insights. In addition, the sales team receives a reliable sales context and regular emails to provide you with an advantage over your competitors.
Einstein Forecasting
We provide AI-powered intelligence to your managers to improve forecasting accuracy, track sales team performance, and forecasts outcomes. To use Einstein Forecasting, we create a permission set using the Sales Cloud Einstein permission set licensing, grant Einstein Forecasting app permissions and assign the permission set to the users. You can predict sole sales projections to sales reps with our help and implementation, allowing them to know what to expect from the source ahead of time and in a precise manner.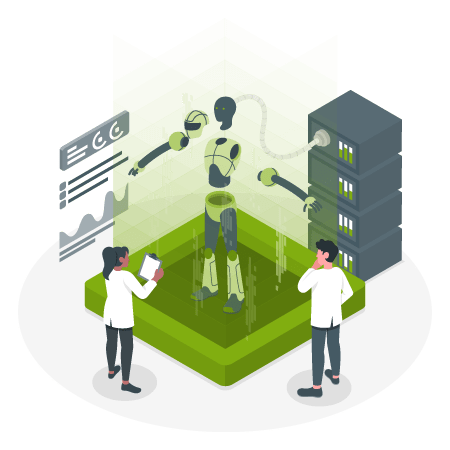 Einstein Activity Capture
Einstein Activity works with Microsoft Office 365 or Google Gmail accounts, logging in all past data for up to 6 months. Later, it captures the background performance and displays it on the activity timeline. You can use us to investigate your relationship with your customers, whether it's about accounts, leads, opportunities, or activities.
Einstein Automated Contacts
It suggests new data by crawling all of your event activity and making it accessible to your sales staff. We can help you research and create sophisticated opportunity positions, which you can then add to your contact list.
Einstein Opportunity Scoring
It uses machine intelligence (ML) and data analytics to help you find opportunities and prioritize them. Einstein Opportunity Scoring uses machine learning to provide a faster, simple, and more accurate solution than traditional rule-based scoring systems.
Einstein Insights
When building a commercial relationship with customers, organizations must tie a knot with them. Allow Einstein Insights to maintain your relationship with your clients while informing your teams about company progress. It gives you an advantage over your competitors.
Looking to develop an innovative app?
At NSIQ INFOTECH, we provide a robust set of services tools that enable our clients to develop the best possible app, establish a profitable business, and differentiate practices.
FAQs
Let's dive deep to know more about our Salesforce Implementation Services