DocuSign Is an electronic signature and agreement management platform. The DocuSign salesforce integration offers a number of benefits, especially to a salesforce consultant in India.
Benefits of Integrating DocuSign with Salesforce
1. Reduced Risk 
Electronic signatures are legal in most countries, and DocuSign is the best platform it provides a number of features with the security, help of DocuSign to protect data and documents.
2. Increased Productivity
DocuSign salesforce increases productivity which means using automation, bulk sending, salesforce integration, using the DocuSign mobile app.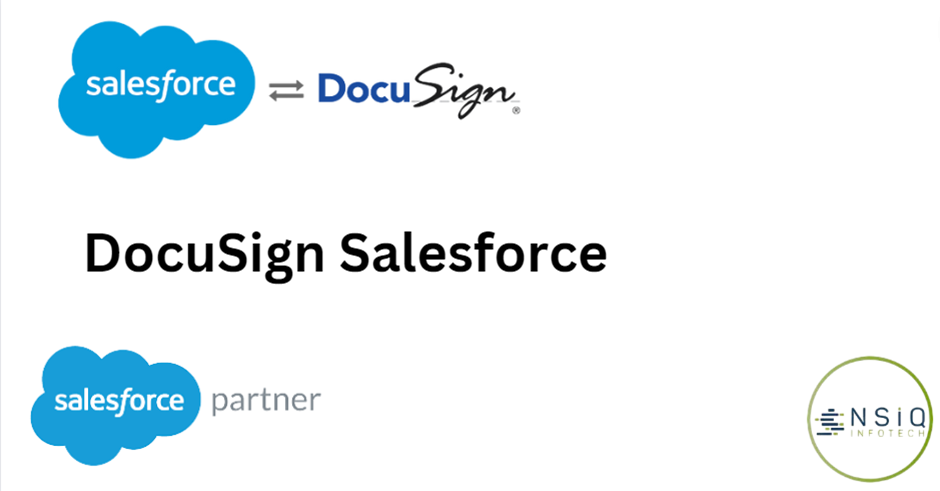 Below are some specific examples of DocuSign Salesforce
use the bulk-sending features in DocuSign to send the same NDA to all of the vendors that you are working with on a new object.
Use DocuSign mobile app to sign a contract with a customer while you are at a meeting.
3. Improved Customer Satisfaction
As a trusted salesforce development company in India, we use a number of ways to improve customer satisfaction. Some of them are:   
Resolve customer issues quickly and efficiently.
Use customer feedback to improve the process.
Make it easy for customers to sign agreements.
Here below are some specific examples of how DocuSign salesforce improved customer satisfaction.
         3.1.1 used DocuSign e-signature API to automate the agreement process.
         3.1.2 use the DocuSign mobile app to allow customers to sign agreements from anywhere anytime
         3.1.3 use the DocuSign dashboard to track the status of agreements and to identify areas where you can improve your process.
How does DocuSign work?
DocuSign is an electronic signature platform, that helps DocuSign users send sign, and manage documents electronically. Basically, DocuSign is the fast and reliable way to electronically sign documents and easily manage them, you can have all your documents digitally signed whatever you want. DocuSign is very easy to handle and is best for us to get signatures.
Benefits of DocuSign:
Easy file sharing and access.
Streamlined document signing process.
Time-saving automation of business processes.
Access from Any device
Enhanced security
Enhanced verification
Ability to store
Integration with other software programs
User-friendly interface and design
Ability to send reminders 
Limitation of DocuSign:   
DocuSign is a powerful signature platform but DocuSign also have some limitations.
1. Number of Documents Per Envelope 
DocuSign has some limit about documents per envelope which means 130 unique documents per envelope.
2. Supported File Format
DocuSign supports a variety of file formats but some common formats include PDF, word, excel, and PowerPoint.
3. Integration with Other Software
DocuSign is integrated with different types of software but not for all types of software.
4. File Size Limit 
DocuSign has a limit on the size of files that can be uploaded and signed. 
How use DocuSign?
Step – 1 -> Upload your document
Step – 2 -> Follow the DocuSign tabs
Step – 3 -> then place the field and send
Step – 4 -> sign in automatically
Step – 5 -> Your Document is saved automatically and securely
Step – 6 -> Finish here 
FAQ:
1. What is DocuSign?
DocuSign is an electronic signature platform that helps users send, sign, and manage Documents electronically.
2. Is DocuSign being secure?
Yes, DocuSign is secure. DocuSign uses a digital signature to ensure the security of signed documents.
3. How much does DocuSign cost?
Basically, DocuSign offers a free plan for individuals who need to sign a limited number of documents per month. and DocuSign also offers different types of paid plans for businesses of all sizes. DocuSign is paid for per much required only.
4. What types of documents can I sign with DocuSign?
you can use a variety of documents with DocuSign, including contracts, purchase orders, and employment agreements.
5. Where is DocuSign is available?
DocuSign is available in over 180 countries around the world.
6. How do I sign the Document?
When the user receives a DocuSign Document to sign, you will receive an email with a link to the document.
7. I have a question about DocuSign that is not answered in the FAQ. Where can I get help?
If you have a question about DocuSign that is not answered in the FAQ, you can contact DocuSign for assistance.
8. Can I sign a document on my mobile device?
Yes, you can sign documents with DocuSign on your iPhone, iPad, or Android devices. If you want to use the signed document, move to the app store, Google Play, and download from there.
9. DocuSign is legal? 
Yes, DocuSign is legal in most of countries
Conclusion:
DocuSign is the best electronic signature platform because it is easy to use, secure reliable. It is used for all type and size of business and if need sign and send securely then DocuSign is best option for you.