Salesforce Mobile Application
What's keeping you from giving your customers an edge over your competitors? We are a trustworthy, experienced Salesforce development company that understands the value of mobile app in any integrated CRM solution.
Create the future of business now with our Salesforce mobile application service
Using mobile applications has surpassed time spent online using web applications, as mobile apps account for primary on-the-go app usage. If you want to access your company's CRM data from your mobile devices, Salesforce mobile app is an ideal solution. From engaging with your consumers to ensuring being connected with them, a Salesforce mobile app is the perfect solution offering user-friendliness for every user. 
Salesforce is a leading force in cloud-based CRM. The Salesforce CRM platform offers many functionalities to support sales, marketing, and service functions. CRM helps all business users to manage client information, activities, contacts, and transactions with a single platform. In an age when people expect a personalized experience, companies have to pull every trick in the book to keep their customers happy and actively engaged and making repeated purchases. 
At NSIQ INFOTECH, we have years of experience building new Salesforce mobile applications. We assist you to engage, manage and retain your customer by delivering a personalized experience using your CRM data. 
Why does each business need a good Salesforce Mobile Application
Quick response
Connect with customers instantly
Secure integration
Create and deploy apps that work for you more quickly. Our Salesforce mobile app helps companies respond more quickly to their customers' needs. Get real-time data from your database and help your users retrieve information when they need it, enhancing their productivity. Furthermore, Salesforce app development enables organizations to have entire control over the app's look and feel. We assist you in creating the most dynamic app possible that can match your brand.
The Salesforce mobile application is a key component of the Salesforce platform, allowing users to complete tasks while on the go. Users can, for example, link their CRM database with their mobile devices and receive real-time updates. Mobile apps also allow you to access your database data from any location. You may also respond to your customers' queries on the go with a Salesforce mobile application.
Manage appointments, check-ins, workflows, and many more services on the move by integrating your Salesforce mobile app with your Salesforce platform. We can provide a secure Salesforce integration to help you unite your customers and business data. You can manage business records, view and edit activities in line with opportunities, deals, and products, and enable calendars, contacts, and tasks, among other things.
Salesforce mobile app consulting services
Our Salesforce consultants can provide a detailed evaluation to assist you in understanding and planning the required features and functionalities that your Salesforce applications will demand.
Salesforce mobile app development services
With our Salesforce mobile app development services, we can bring CRM capabilities to your mobile apps by developing engaging Salesforce mobile apps that are highly functional, dynamic, and feature in rich.
Salesforce custom app development services
We are a Salesforce-specific company, having expertise in developing custom Salesforce apps, designed to meet unique business needs. Achieve more with our bespoke Salesforce apps, be it delivery planning or marketing strategy.
Salesforce internal apps services
We create internal Salesforce apps to help you run your business more smoothly with added features and functionalities tailored to meet your unique business needs.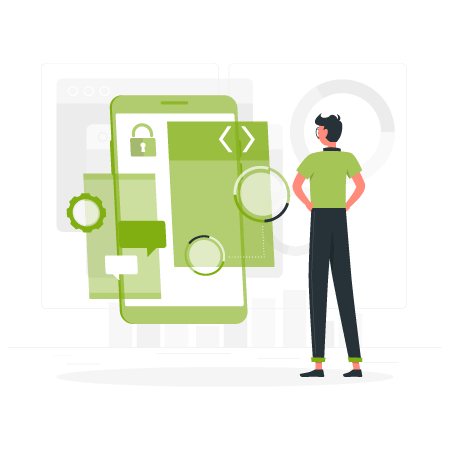 Salesforce apps support and maintenance
Our team of Salesforce consultants and developers is available around-the-clock to answer your questions and resolve any issues you may have, allowing your business to flourish and satisfy your customers.
Salesforce integration and migration
Our Salesforce experts have extensive experience with Salesforce migration and integration. We help you achieve seamless connection with third-party apps and migration.
Benefits of building a Salesforce Mobile Application
Operate business from your mobile app
Benefits of building a Salesforce Mobile Application
Looking to develop an innovative app?
At NSIQ INFOTECH, we provide a robust set of services tools that enable our clients to develop the best possible app, establish a profitable business, and differentiate practices.
FAQs
Let's dive deep to know more about our Salesforce Implementation Services
More than just a mobile version of Salesforce, the Salesforce app is a powerful tool. It's a mobile container for any business app you build on Salesforce, including mobile-ready apps from AppExchange, and it's built API-first.
Because Salesforce is developed entirely in the cloud, with a uniform data model and an API-first approach, we can help to build any app on the platform and instantaneously deploy to the Salesforce mobile app, which also runs on Lightning. In truth, all that is required to make an app mobile-friendly is that we develop the Salesforce mobile app and enable it while helping you to save in the mobile administration configuration. We can also regulate specific users to get access to the app within their company.